SanCo Sales and The Dayton Forging & Heat Treating Company have partnered up to provide open die forgings, heat treating, rough machining and forged bar stock for our customers all over Texas, Oklahoma, Arkansas, and Louisiana.
We are very excited to formally announce this partnership and to introduce you to the great team they have working for them in Ohio. SanCo takes great pride in customer service and valuing relationships and Dayton Forge also shares this philosophy by genuinely putting their customer first. Our team had the opportunity to go tour the facility and visit with all the staff. From the first handshake, we were welcomed in as family and it was clear that the culture created there was exceptional! Their culture starts at the top and trickles all the way down to the staff in the shop. We truly appreciate Dayton's hospitality and trust in SanCo to represent their brand within our market.


A Little About Dayton Forge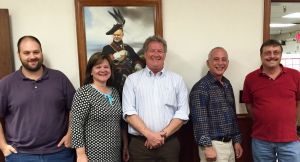 Dayton manufacturers a wide range of open die forgings in both carbon and alloy steel. Some of the items we saw on the floor included shafts and spindles, rings, bars, discs, cylinders, sleeves, hubs and the list goes on.
The Dayton Forging & Heat Treating Company is able to accommodate forgings up to 36,000lbs, lengths up to 25ft, and diameters of 50″. They also offer In-House Heat Treating and they can handle a wide array of parts. They are able to heat treat small parts that you could fit into your hand up to parts that are 27ft in length. In addition to these capabilities, Dayton can rough machine process stock up to 435 inches and 42 inches in diameter.
Dayton offers inventory programs, is ISO Certified and has the unique ability for quick turnarounds due to their commitment to offering Forged Round Steel Bars & Hollow Bars… All ready to be machined and shipped at a moments notice.
To find out more about The Dayton Forging and Heat Treating Company, please see their page here.
We look forward to a long lasting partnership and working closely with the Dayton Forging team!